11-20mm F/2.8 Di III-A RXD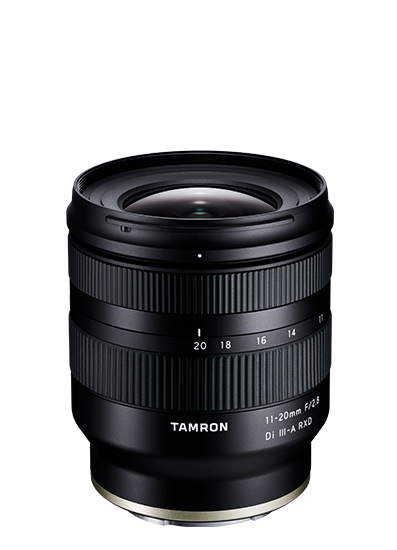 11-20mm F/2.8 Di III-A RXD
Model B060S
|  Di III-A: Only for APS-C
The world's first 11-20mm F/2.8 zoom lens
Does this lens fit my camera?
New ultra-wide-angle zoom for spectacular perspectives
The world's first Lens in its class with an aperture of F/2.8 - a zoom that lets you rediscover the beauty of the world.
The 11-20mm F / 2.8 Di III-A RXD (model B060) is the perfect choice for gripping perspectives and extraordinary viewing angles. Thereby, it is so light and compact that it is almost hard to believe that this is the world's first1 ultra-wide-angle lens for mirrorless APS-C system cameras with Sony E-mount with an aperture of F/2.8. In fact, it is so handy that it is ready to hand in any situation and is ideally suited for dynamic video recordings with a gimbal. Special optical glasses ensure an optimally corrected, sharp and detailed image. The short close-up distance - only 15 cm at the shortest focal length and 24 cm at the longest focal length - allows spectacular close-ups that you would not have thought possible.
Regardless of the respective shooting distance, the RXD (Rapid-eXtra-silent stepping drive) autofocus motor focuses precisely and quickly on the motif. The focus is almost completely silent; thus no annoying operating noises are recorded during video recordings.
Maximum Magnification Ratio
Weight
335 g
(Sony Alpha CSC E-Mount)
+ Show more
Immerse yourself in the fascinating world of wide-angle macro photography!
The closest focusing distance of the 11-20mm F/2.8 is only 15 cm with the shortest focal length. This means: With this lens you can get as close to the motif as you want - up to the largest possible image scale of 1:4. A dramatic effect of depth results due to the exaggerated gradation of the proportions. The steep decrease in image size makes close objects appear huge and distant objects appear tiny. With the aperture fully open (F/2.8), the depth of field is low, so that areas that are important to the image can be emphasized through the targeted use of sharpness and blurring (bokeh).
Brilliant and fast zoom duo for mirrorless APS-C system cameras
This duo is unique in terms of compactness, speed and image quality: The 11-20mm F/2.8 Di III-A RXD (model B060) and the 17-70mm F/2.8 Di III-A VC RXD (model B070) together cover the entire focal length range from 11mm to 70mm (35mm equivalent 16.5mm up to 105mm) with a constant aperture of F/2.8. Nevertheless, the fast combination weighs only 860g. The lens duo 11-20mm F/2.8 and 17-70mm F/2.8 is thereby the ideal choice for everybody who likes to travel light and wants to capture their experiences in outstanding images. Both zoom lenses also have the same size filter thread (ø 67 mm). The same filters and lens caps can therefore be used on both lenses. This saves weight during transport and valuable time when changing lenses.