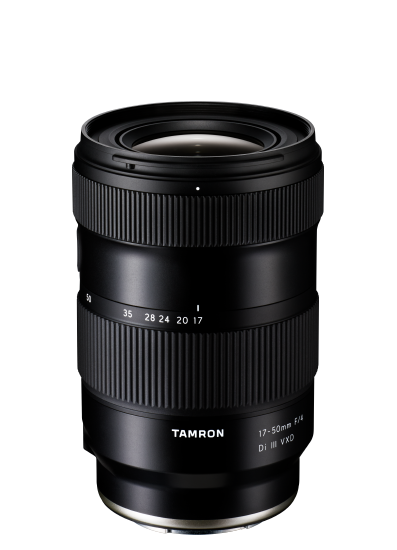 Model A068S
|  Di III: For full frame & APS-C (Di III)
Travel, Art, People, Landscape
Your World Expanded
Does this lens fit my camera?
A zoom range that expands your power of expression
The world's first lens that covers from ultra wide-angle through the standard range, 17-50mm
The 17-50mm F/4 Di III VXD (Model A068) covers a versatile zoom range from ultra-wide through standard focal lengths – no need to switch lenses. From dynamic landscapes to casual snaps and portraits in the standard range, the rich variation is possible with a single compact lens. The excellent close-range shooting performance provides an MOD of 0.19m at the wide end and 0.3m at the tele end. What's more, the constant F4 aperture throughout the whole range makes it ideal not just for still images but also video shooting. The 17-50mm F4 will dramatically expand your range of expression, paving the way to all-new creative photographic experiences.
Maximum Magnification Ratio
Weight
460 g
(Sony Alpha CSC E-Mount)
+ Show more
Advanced optical performance with rich bokeh at F4
The optical construction of the 17-50mm F4 consists of 15 elements in 13 groups. The precise arrangement of special lens elements, including three LD, one GM and two hybrid aspherical lens elements, effectively suppresses chromatic and other aberrations. Full frame resolution with clarity and sharpness, and full use of the rich bokeh provided by the wide F4 aperture, bring you closer to that perfect shot.
Compact, lightweight body and internal zoom for comfortable shooting
The 17-50mm F4 weighs just 460g (16.2oz) and is a compact 114.4mm (4.5in) long, a size that's well-balanced even when attached to a Sony mirrorless camera body. The lens has a fixed barrel length and internal zoom mechanism, making it easy to keep the shot in focus when shooting stills or video, and easy to balance with a video rig or gimbal stabiliser. The highly portable 17-50mm F4 features moisture-resistant construction and fluorine coating on the front and rear lens surfaces for durability in natural environments.