35-150mm F/2-2.8 Di III VXD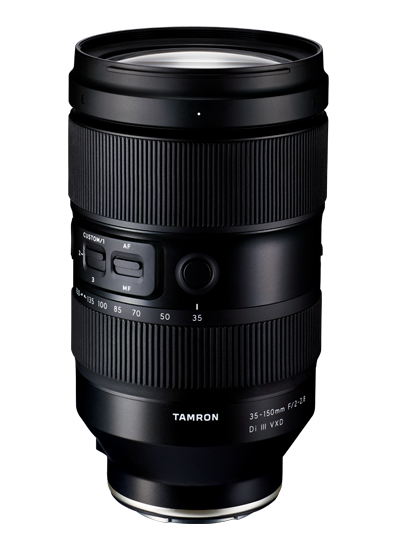 35-150mm F/2-2.8 Di III VXD
Modell A058S
|  Di III: För fullformat och APS-C (Di III)
A top lens for the whole trip. World premiere with speed F2.
Passar det här objektivet till min kamera?
Beautiful pictures with breathtaking details
The as world's first all-in-one zoom with a speed F/2 for mirrorless full format system cameras
The 35-150mm F/2-2.8 Di III VXD (model A058) is a travel zoom lens that is characterized by its particularly high resolution. It covers the most common focal length range from 35mm wide angle to 150mm telephoto and is the world's first1 zoom lens with a starting aperture F/2 for mirrorless full format system cameras with Sony E-mount. It is suitable for all typical travel photography situations - from landscapes and architecture to portraits and group shots to everyday snapshots, even for motif scenes with little light. Equipped with a fast and precise autofocus with VXD technology, the 35-150mm F / 2-2.8 allows you to capture every moment sharply in the picture. The inspiring and unique combination of a large focal length range, high speed and advanced technology in one lens opens up new creative freedom.
Maximalt förstoringsförhållande
Vikt
1.165 g
(Sony Alpha CSC E-Mount)
+ Visa mer
Spectacular close-ups - very simply
In the 35mm wide-angle position, the shortest setting distance is only 0.33 m, which corresponds to a maximum magnification of 1:5.7. The large aperture ensures excellent exposure of the motif and a beautiful background blur. The combination of a short close-up distance and high speed also enables many creative photos, such as indoor food shots.
From wide angle to telephoto - all focal lengths in one zoom lens
With the 35-150mm F/2-2.8, users have more options than ever before with just one lens. The fast zoom lens covers the entire focal length range from 35mm wide angle to 150mm telephoto. A multitude of different image sections can be realised from one location - ideal conditions for creative photography. At 150mm, you can achieve impressive portraits with pinpoint sharpness and an attractive bokeh effect with a maximum aperture of F/2.8. At 85mm, the closer proximity to the person being photographed gives the photos an even more intimate feel. 50mm and 35mm are classic focal lengths for landscape, coverage and street photography.
Individual configuration with the TAMRON Lens Utility software
The lens is compatible with the new TAMRON Lens Utility Software, which was developed by Tamron for configuring your own lenses. If the 35-150 mm F/ 2-2.8 Di III VXD is connected to a computer running the software using the separately available TAMRON Connection Cable, various functions can be individually configured and the firmware of the lens can be updated.
New design for more ease of use
Not only the inner workings of the high-speed standard zoom lens have been comprehensively renewed in favour of greater ease of use, but also its outer shell. The design of the 35-150mm F/2-2.8 is trend-setting for the upcoming Tamron lenses. The focus and zoom rings have a better grip thanks to a new corrugation. In contrast to previous models, the lens barrel is also characterized by a glossy surface that is particularly scratch and dirt-resistant.