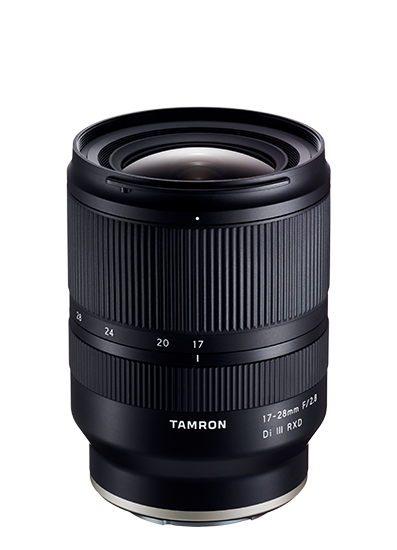 Model A046S
|  Di III: For full frame & APS-C (Di III)
A lens for creative people
Does this lens fit my camera?
Discover the world from a completely new perspective!
The 17-28mm F / 2.8 Di III RXD (Model A046) is a fast ultra-wide angle zoom developed specifically for mirrorless system cameras with Sony E-Mount. It offers outstanding image quality and a consistently large aperture of F/2.8. In addition, with a length of only 99 mm and a weight of just 420g, it is as compact and light as any other lens in its class. It is the ideal lens to discover natural and urban landscapes from a new perspective. The optical design includes LD (low dispersion) and XLD (eXtra low dispersion) lens elements, which have been positioned to suppress chromatic aberrations as much as possible. Combined with the most advanced camera features, the full focal length range achieves very high imaging performance that fully exploits the potential of high-resolution sensors.
Maximum Magnification Ratio
Weight
420 g
(Sony Alpha CSC E-Mount)
+ Show more
Short close range for photos with particularly dynamic perspectives
With the 17-28mm F/2.8 you can take pictures even from close range. At 17 mm, the short close distance of 19 cm enables fascinating close-up shots at a magnification of 1:5.2; at 28mm, the nearest focusing distance is 26cm (1: 6). In addition, with the aperture wide open, a very low depth of field with an attractive blur (bokeh) is achieved. This effect is more pronounced the closer you are to the motif when shooting.
High-performance autofocus that focuses quickly and accurately in any situation
The autofocus system has a sensor that detects the current focus setting of the lens, and an RXD (Rapid eXtra silent stepping drive) stepper motor. When focusing, they ensure particularly high speed and precision, which enables the user to keep even dynamic objects continuously in the focus range. The ideal conditions for successful snapshots. The AF works so quietly that there is virtually no operating interference in the video recording.
Versatile possibilities in the duo with the 28-75 mm F/2.8 G2 (Model A063)
The two Tamron lenses for Sony E-Mount, the 17-28 mm and the 28-75 mm G2, cover the large zoom range from the ultra wide angle (17 mm) to the medium tele focal length (75 mm) with consistently high luminous intensity F/2.8. Weighing only 970 g altogether, the Duo is the perfect complement to a compact, mirrorless system camera. The models are designed with the zoom ring in the front and the focus ring in the back. Thus, the operation of both lenses is the same for the user. The optics additionally have the same filter diameter (Ø 67 mm), so that a set of polarization or grey filters can be used on them and also the lens caps are interchangeable.