SP 70-200mm F/2.8 Di VC USD G2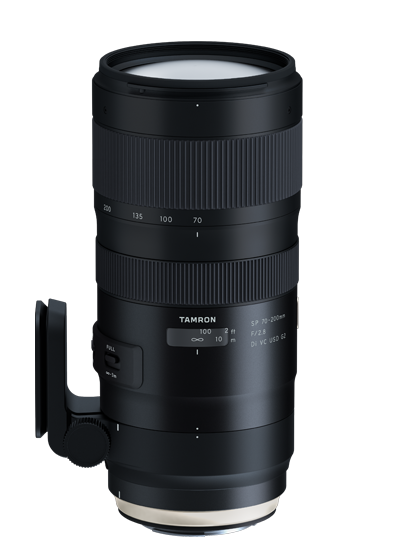 SP 70-200mm F/2.8 Di VC USD G2
Model A025E
|  Di: For full frame & APS-C (Di)
Landscape, Art, People, Sports
Expand your image of fast telephoto shooting
Does this lens fit my camera?
Expand your image of fast telephoto shooting
The new SP70-200mm F/2.8 G2 (Model A025) telephoto lens reimagines the highly acclaimed Model A009 with enhanced optical performance, improved VC (Vibration Compensation), faster AF speed and accuracy, and shortened MOD (Minimum Object Distance) for greater flexibility. What's more, compatibility with Tamron tele converters provides additional focal length.
In keeping with the SP series' innovative technology, the lens is designed to be durable, flexible and resilient enough to rise to any occasion.
Maximum Magnification Ratio
+ Show more
High resolution meets beautiful bokeh
Every aspect of the SP 70-200mm F/2.8 G2 (Model A025) zoom has been improved, providing high image quality and enhanced bokeh throughout. Optical design features include XLD (eXtra Low Dispersion) and LD (Low Dispersion) glass to eliminate chromatic aberrations across the entire zoom range, ensuring optimum resolution— even at the edges. eBAND Coating designed exclusively for this new zoom offers superior anti- reflection properties, greatly minimizing flare and ghosting. And refined bokeh provides spectacular background effects from nearly any angle.
MOD reduced to 0.95m
Improvements to the new SP 70-200mm F/2.8 G2 extend well into the lens barrel. Tamron has reduced the MOD from 1.3m (50.7 in) in our older model to 0.95m (37.4 in), allowing a maximum magnification ratio of 1:6.1. The shorter MOD, coupled with the superb optical performance of this new zoom, allows you to significantly broaden your range of expression.
Accuracy in action
The USD (Ultrasonic Silent Drive) ring-type motor, along with two high-performance microcomputers, ensures excellent focusing speed and accuracy. The Full-time Manual Focus override allows you to make fine adjustments while using AF, without having to switch from AF to MF mode.
Keep it steady with VC equal to 5 stops
Tamron's best-in-class VC* image stabilization performance is equivalent to 5 stops**, according to CIPA standards. Plus, this lens offers a choice of three VC modes, including one exclusively for panning. Now you can match the VC mode to your shooting conditions and enjoy sharp, jitter-free handheld shooting—even in low light.
* Among 70-200mm F/2.8 interchangeable lenses for full-frame DSLR cameras.
(As of January, 2017. Source: Tamron.)
** Using in VC MODE 3 For Canon: 5D-MKIII is used For Nikon: D810 is used
The compact alternative of the SP 70-200mm F/2.8 Di VC USD G2 for Sony E-Mount
The 70-180mm F/2.8 Di III VXD practically corresponds to its "sister lens" 70-200mm F/2.8 Di VC USD G2 with respect to performance, which was developed for single lens reflex cameras from Canon and Nikon. The two classic, fast telephoto zoom lenses offer an open aperture of F/2.8, a fast and precise autofocus and a comparably high image quality. Due to their almost identical focal length range, they are equally suitable for a variety of demanding shooting situations and are for example often used in portrait and sports photography.
Expand Your Options with TAP-in Console
The future is here. Now you can update firmware, customize autofocus positions and adjust the mechanical setup and preferences of the SP 70-200mm 2.8 G2 by simply attaching it to the TAMRON TAP-in Console and connecting it via USB to a personal computer.