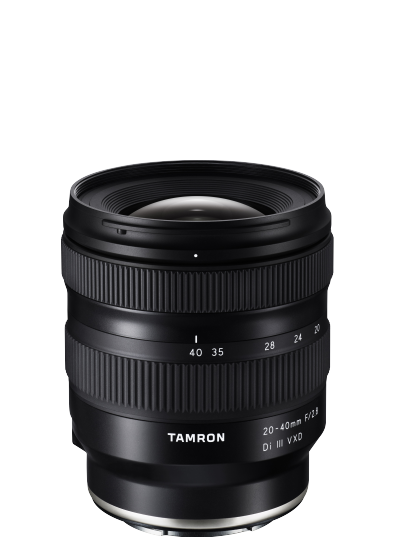 Model A062S
|  Di III: For full frame & APS-C (Di III)
Landscape, Art, People, Travel
The standard zoom gets a new start – now you can zoom from 20mm ultra-wide-angle to normal.
Does this lens fit my camera?
Revolutionary "standard zoom lens" for photo and video shooting
The handiest 20 mm ultra-wide-angle zoom lens in its class
This innovative lens redefines the class of fast standard zooms. born out of a desire to create a handy, easily portable, ultra-wide-angle zoom lens for Sony E-mount mirrorless cameras, the 20-40mm F/2.8 Di III VXD (model A062) is exceptional in many ways. It offers a constant open aperture of F/2.8 over the entire zoom range from 20 mm to 40 mm, it is particularly compact and lightweight, measuring just 86.5 mm in length and weighing 365 g. While the standard 40 mm focal length is ideal for snapshots, portraits and food photography, the 20 mm ultra-wide-angle is ideal for small interiors and landscapes that emphasise depth. With four LD (Low Dispersion), two GM (Glass Molded Aspherical) and one hybrid aspherical lens, the lens has several special features that correct optical aberrations and provide an ideal balance of compact size and high image quality. The large F/2.8 aperture provides an appealing bokeh effect.
Maximum Magnification Ratio
Weight
365 g
(Sony Alpha CSC E-Mount)
+ Show more
Impressive videos and selfies with 20 mm and a fast, precise autofocus
The 20-40mm F/2.8 is particularly recommended for video shooting. It is not only very compact, but also optimally balanced when used with a mirrorless system camera, which is an advantage when used with a camera rig or gimbal stabiliser, for example. This makes it the ideal choice for vloggers and video content creators. Another benefit of the 20 mm wide-angle is the large field of view, which ensures that much of the background is visible when taking selfies. In addition, the autofocus system is equipped with a powerful VXD linear motor that ensures fast, pinpoint focus and reliable AF tracking of moving subjects.
Shortest focusing distance of only 0.17 m for spectacular close-ups
An ultra-wide-angle lens offers unique creative possibilities with its wide field of view. The closer the camera is to the subject, the more dramatic the depth effect. For example, the 20-40mm F/2.8 can focus on the subject at 20 mm from just 0.17 m, which corresponds to an image scale of 1:3.8. These close-up capabilities make the new ultra-wide-angle zoom ideal for creative subject compositions.