35mm F/2.8 Di III OSD M1:2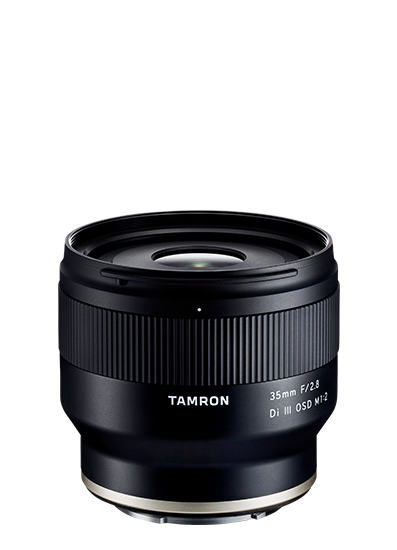 35mm F/2.8 Di III OSD M1:2
Model F053S
|  Di III: For full frame & APS-C (Di III)
Travel, People, Art, Landscape
Breathtaking perspectives
Does this lens fit my camera?
These fixed focal lengths expand the creative expressions
TAMRON expands its range with three fixed focal lengths for Sony E-Mount cameras with full frame sensor. In addition to a high light intensity of F/2.8, they offer a low short range (reproduction scale 1:2) and are extremely compact. The ultra wide angle 20mm F/2.8 Di III OSD M1:2 (model F050) allows completely new image compositions. The super wide angle 24mm F/2.8 Di III OSD M1:2 (model F051) literally expands the horizon. And the standard wide angle 35mm F/2.8 Di III OSD M1:2 (model F053) is ideal for everyday photography. Thanks to the short minimum focusing distance, a wide variety of motifs - landscape, still life or family snapshots - can be staged with very dynamic perspectives in a unique manner. The fixed focal lengths are characterised by low weight and handy dimensions - even if you take all three, you travel completely carefree. Special optical glasses, among others LD (Low Dispersion) and GM (Glass Moulded Aspherical) elements, suppress optical reproduction aberrations. Tamron's legendary BBAR (Broad-Band Anti-Reflection) coating minimises stray light and lens flare. In addition, in-camera image corrections* can be used to realise the full potential of high-resolution image sensors. These fixed focal lengths open up completely new creative possibilities for expression!
Maximum Magnification Ratio
Weight
210 g
(Sony Alpha CSC E-Mount)
+ Show more
Closer to the motif thanks to the much shorter focusing distance
The minimum focusing limits of the 20mm, 24mm and 35mm are 0.11m, 0.12m and 0.15m, respectively. For all three lenses, this results in the largest possible reproduction scale of 1:2, even small objects can be photographed in a picture-filling manner. The user will never be frustrated again because he could not get close enough to an object. Thanks to these characteristics, he can compose images with an extremely dramatic perspective (close objects appear larger, but distant ones appear smaller). The large aperture of F/2.8 also allows unique shots with attractive background blur.
Light and compact lens housing
The lenses were developed especially for compact mirrorless system cameras. With a length of only 64 mm, they are particularly handy and easy to operate. When focusing, the overall length does not change, allowing users to take pictures at close range without accidentally touching with the front lens.
Tamron lenses for Sony E-Mount are very versatile and fun!
In addition to the three new fixed focal lengths, there are further Tamron lenses for Sony E-mount cameras. A variety of zoom lenses* are on offer, which increase the creative scope by virtually endless possibilities. What unites all lenses for mirrorless system cameras is their compact and light design. Even as a complete set, they can be easily transported together. Conveniently, all lenses of the series have the same filter diameter (67 mm), so that a single UV and polarising filter set is sufficient.