SP 24-70mm F/2.8 Di VC USD G2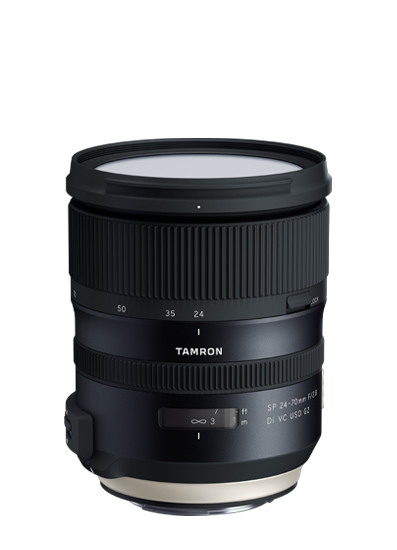 SP 24-70mm F/2.8 Di VC USD G2
Model A032E
|  Di: For full frame & APS-C (Di)
Does this lens fit my camera?
Sophisticated design delivers superb performance and ultra-high image quality
The use of specialized, high quality glass materials assures accurate color reproduction and superior sharpness, perfect for today's high-pixel-density cameras. Optical construction (17 elements in 12 groups) uses 2 XR (Extra Refractive Index) elements, 3 LD (Low Dispersion) elements, 3 GM (Glass-Molded aspherical) and one hybrid aspherical lens element. Together they minimize axial chromatic aberrations, transverse chromatic aberrations, spherical aberrations and distortion, and allow a compact design that achieves superior image quality.
Maximum Magnification Ratio
+ Show more
Best-in-class* 5 stops** for smooth handheld shooting
Besides Tamron's original VC (Vibration Compensation) system, the A032 has an MPU dedicated to VC processing, for the highest vibration compensation in its class*, with a CIPA image stabilization level of 5 stops**. Enjoy jitterfree shooting and more flexibility — even in low light.
* Among 24-70mm F/2.8 interchangeable lenses for DSLR cameras (as of May, 2017; Tamron)
** CIPA Standard Compliant. For Canon:EOS-5D MKIII is used. For Nikon:D810 is used.
*** A new control system using two high-performance MPUs (micro-processor units)
All-new control system delivers greater speed and precision
The A032 is equipped with its own MPU (micro-processor unit), with embedded DSP (digital signal processing) blocks that enable high-speed digital signal processing, achieving both excellent responsiveness to signals from the camera and high-precision AF performance.
eBAND Coating reduces ghosting and flare
The A032 features Tamron's proprietary eBAND(Extended Bandwidth & Angular-Dependency) Coating and BBAR (Broad-Band Anti-Reflection) Coating, to combat ghosting and flare. A nano-structured layer and conventional multiple-layer coatings deliver superior anti-reflection properties.
Keep your lens in line with a built-in lock
The lens hood is equipped with a locking mechanism, which prevents detachment due to unintentional contact during use.
Compatible with the TAMRON TAP-in Console
The optional TAP-in Console provides a USB connection to your personal computer, enabling you to easily update your lens's firmware as well as customize features including fine adjustments to the AF and VC.