100-400mm F/4.5-6.3 Di VC USD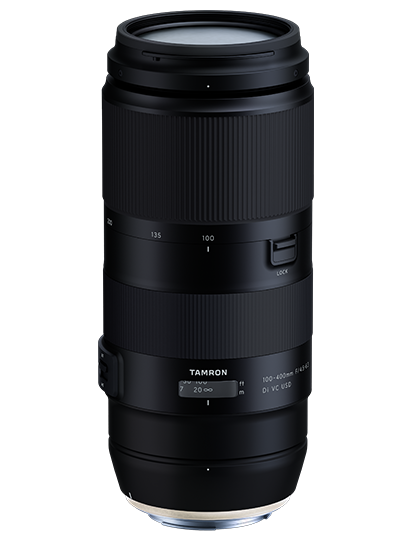 100-400mm F/4.5-6.3 Di VC USD
Model A035E
|  Di: For full frame & APS-C (Di)
Shoot precisely in the moment
Does this lens fit my camera?
Heavyweight Performance in a Lightweight Lens – Mobility meets precision with this ultra-telephoto lens
The Tamron 100-400mm F /4.5-6.3 Di VC USD (Model A035) is a highly portable, ultra-telephoto zoom lens with AF precision for shooting instantaneous movement with the utmost clarity. With this effectively positioned, extraordinary glass LD (Low Dispersion) lens, aberrations typical with many telephoto lenses are a thing of the past. Tamron's proprietary eBAND (Extended Bandwidth & Angular-Dependency) Coating suppresses reflections, yielding vivid images of amazing clarity. And thanks to a lens barrel made primarily of magnesium, the 100-400mm boasts the lightest weight in its class, making it ideal for handheld shooting over long periods of time. With a MOD (Minimum Object Distance) of 1.5m and a maximum image magnification ratio of 1:3.6, the 100-400mm lets you soften the foreground or background to dramatically emphasize your subject at close range. Moisture-Resistant Construction and a fluorine-coated front element provide additional protection when shooting outdoors.
Maximum Magnification Ratio
+ Show more
Excellent AF performance meets enhanced VC (Vibration Compensation)
Precise AF tracking and VC (Vibration Compensation) are essential to ultra-telephoto lens performance. Tamron's Dual MPU highspeed control system helps make this possible. In addition to an MPU (micro-processing unit) with a built-in DSP for superior signal processing, the 100-400mm features a separate MPU dedicated exclusively to vibration compensation. With AF tracking and enhanced VC, you can enjoy shooting your most beloved subjects with stability and ease—even in low-light.
* Among 100-400mm interchangeable lenses for DSLR cameras (as of Oct, 2017; Tamron)
Expand your possibilities with an optional tripod mount
Using a tripod is as easy as shooting handheld with the 100-400mm. Its new textured grip is easy to handle and Arca-Swiss release compatibility and easy detachment improve your speed and flexibility. Now you can choose your subject—and your most suitable shooting method.
More options. More freedom. TAMRON TAP-in Console
Optional compatibility with the TAMRON TAP-in Console provides a USB connection from your lens to your personal computer, allowing you to easily update firmware. You can also customize features like making fine adjustments to the in-focus position of the autofocus.