18-400mm F/3.5-6.3 Di II VC HLD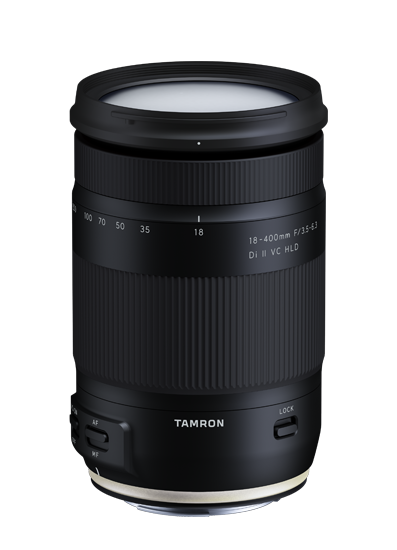 18-400mm F/3.5-6.3 Di II VC HLD
Model B028E
|  Di II: Alleen voor APS-C (Di II)
Standaard, Breed, Telefoto
Reizen, Mensen, Landschap
Krachtige prestaties die je verbeelding overtreffen.
Past deze lens op mijn camera?
Ga letterlijk tot het uiterste met werelds eerste alles-in-een 22,2x ultra telezoom.
Maak kennis met werelds eerste alles-in-een ultra telezoomobjectief voor APS-C . Dit objectief heeft een brandpuntafstand van 18-400 mmdat is 22,2x zoom! Door de APS-C cropfactor werk je dus met een 27-600mm megazoom. Zo haal je onderwerpen in de verte dichterbij en profiteer je van het samentrekkende effect dat alleen mogelijk is met een extreem teleobjectief. Bovendien biedt dit objectief uitzonderlijke optische prestaties over het gehele zoombereik – van groothoek tot ultratele. Tamron combineert met dit nieuwe objectief, met zijn vochtwerende constructie, de kunst van het fotograferen met de vreugde het op reis gaan. Gebruik nu één objectief voor alles – van adembenemende landschappen en steden vol neonlicht tot gedetailleerde portretten en kleine bloemen. Het ultra telezoombereik is daarnaast ook ideaal voor dieren- en sportfotografie. Met een maximale vergroting van 1:2,9 kun je zelfs de kleinste vlinders en bloemen prachtig vastleggen.
Maximale Vergrotingsverhouding
+ Toon meer
620mm capability, compact size
Until now, shooting at ultra-telephoto ranges meant carrying large interchangeable lenses. Thanks to the all-in-one zoom technology developed by Tamron, you can travel with a single lens that's 121.4mm long and weighs only 705g.*² Experience the thrill of shooting with compact equipment that makes it easy to capture ultra-telephoto images.
*² Length and weight are based on the Nikon-mount lens.
Highly precise. Conveniently compact.
Tamron's exclusive HLD (High/Low torque-modulated Drive) saves power while providing superior drive. It focuses accurately and quietly while adjusting the motor's rotation from low to high speeds, enabling smooth autofocusing. HLD let us design a space-saving AF module, for a sleeker barrel and reduced overall lens size.
Sharp, solid telephoto shots
Tamron's VC (Vibration Compensation) technology stabilizes the image in the viewfinder, so you can frame your subject and shoot a sharp image – even at ultratelephoto ranges and in poorly lit conditions.
Expand Your Options with TAP-in Console
The future is here. Now you can update firmware, customize autofocus positions and adjust the mechanical setup and preferences of the 18-400mm F/3.5-6.3 Di II VC HLD by simply attaching it to the TAMRON TAP-in Console (available as optional accessory) and connecting it via USB to a personal computer.
Testrapporten en onderscheidingen
EISA Award – Photo Innovation of the year 2017-2018