18-400mm F/3.5-6.3 Di II VC HLD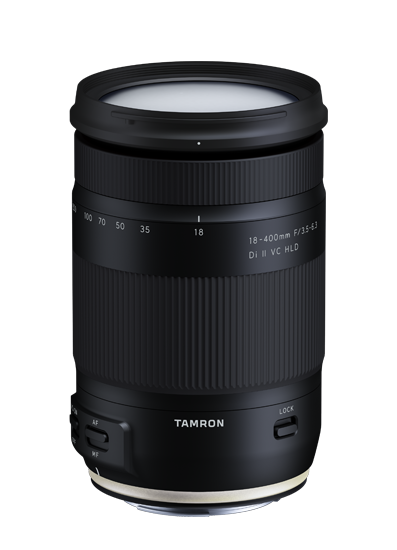 18-400mm F/3.5-6.3 Di II VC HLD
Modell B028E
|  Di II: Bare for APS-C (DI II)
Reise, Mennesker, Landskap
Powerful performance that exceeds your imagination.
Passer dette objektivet til kameraet mitt?
Go to extremes with the world's first 22.2x ultra-telephoto all-in-one zoom.
lntroducing the world's first ultra-telephoto all-in-one zoom lens for the APS-C format. With a focal length range of 18-400mm and 22.2x zoom, it has an ultra-telephoto range equivalent to 620mm in the 35mm format. This brings distant subjects closer, while providing perspective-flattening effects that are only possible with an extreme telephoto lens. Plus it offers exceptional optical performance across the entire zoom range-from wide angle to ultra-telephoto. With this new lens - and its moisture-resistant construction - Tamron brings the art of photography to the joy of travel. Now you can use the same lens to shoot everything from stunning landscapes and neon-lit cities to detailed portraits and delicate flora. The ultra-telephoto range makes it just as easy to photograph animals and sports. And with a maximum magnification ratio of 1 :2.9, you can even enjoy tele-macro photography.
Maksimal forstørrelsesforhold
+ Forestilling
620mm capability, compact size
Until now, shooting at ultra-telephoto ranges meant carrying large interchangeable lenses. Thanks to the all-in-one zoom technology developed by Tamron, you can travel with a single lens that's 121.4mm long and weighs only 705g.*² Experience the thrill of shooting with compact equipment that makes it easy to capture ultra-telephoto images.
*² Length and weight are based on the Nikon-mount lens.
Highly precise. Conveniently compact.
Tamron's exclusive HLD (High/Low torque-modulated Drive) saves power while providing superior drive. It focuses accurately and quietly while adjusting the motor's rotation from low to high speeds, enabling smooth autofocusing. HLD let us design a space-saving AF module, for a sleeker barrel and reduced overall lens size.
Sharp, solid telephoto shots
Tamron's VC (Vibration Compensation) technology stabilizes the image in the viewfinder, so you can frame your subject and shoot a sharp image – even at ultratelephoto ranges and in poorly lit conditions.
Expand Your Options with TAP-in Console
The future is here. Now you can update firmware, customize autofocus positions and adjust the mechanical setup and preferences of the 18-400mm F/3.5-6.3 Di II VC HLD by simply attaching it to the TAMRON TAP-in Console (available as optional accessory) and connecting it via USB to a personal computer.
Testrapporter og priser
EISA Award – Photo Innovation of the year 2017-2018
Nyheter om dette produktet