SP 150-600mm F/5-6.3 Di VC USD G2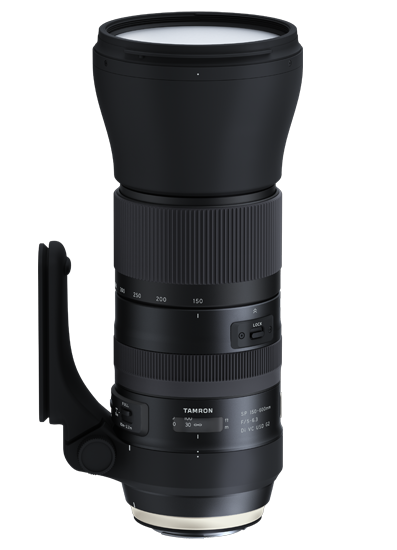 SP 150-600mm F/5-6.3 Di VC USD G2
Modell A022E
|  Di: For fullformat & aps-c (tir)
You`re never too far from a great close-up
Passer dette objektivet til kameraet mitt?
World acclaimed ultra-telephoto zoom reborn; meet the all-new next generation
The SP 150-600mm G2 (Generation 2) ultra-telephoto lens with upgraded optical performance enables handheld shooting with remarkable definition. This new lens builds upon the success of the current SP 150-600mm (Model A011) which Tamron first introduced in December, 2013, including better overall optical performance and faster AF speed, VC enhancements, plus Fluorine Coating, FLEX ZOOM LOCK and tele converter.
Rebuilt from the ground up to meet Tamron's strict quality standards and design specifications, this new zoom combines smart engineering and high performance with quality craftsmanship, durability and user friendliness.
Maksimal forstørrelsesforhold
+ Forestilling
Enhanced optics meet greater versatility
The SP 150-600mm G2 includes three LD (Low Dispersion) lens elements which completely eliminate axial and transverse chromatic aberrations. It also features upgraded optical construction (21 elements in 13 groups).
Anti-reflection technologies, eBAND (Extended Bandwidth and Angular-Dependency) Coating and BBAR (Broad-Band Anti-Reflection) Coating improve light transmission and suppress internal reflections, including light reflected off the camera's image sensors. So even when taking a backlit or semi-backlit photograph, ghosting and flare caused by reflected light are fully eliminated.
Additional enhancements expand the lens's versatility. For example, MOD (Minimum Object Distance) has been reduced to 2.2m so you can enjoy tele-macro photography and dramatic bokeh.
Capture the moment with sharpness and accuracy
The Model A022 is equipped with a USD (Ultrasonic Silent Drive) ring-type motor that delivers excellent responsiveness and control. AF speed is significantly improved from current model, and it enables accurate high-speed focus even when capturing moving subjects.
Keep it steady with improved VC (Vibration Compensation)
The VC (Vibration Compensation) effectiveness is equivalent to 4.5 stops, based on image stabilization performance levels established by CIPA (Camera and Imaging Products Association) when using in VC MODE 3. SP 150-600mm G2 has three types of VC modes.
VC MODE 1
The standard mode that strikes a great balance between the stability of the viewfinder image and the stabilization effects.
VC MODE 2
Exclusively used for panning.
VC MODE 3
Prioritizes the stabilization of the captured images and forgoes the stabilization of the viewfinder image.
Protect your lens with Fluorine Coating and Moisture-Resistant Construction
The front surface of the lens element is coated with a protective fluorine compound that is water- and oil-repellant. The lens surface is easier to wipe clean and is less vulnerable to the damaging effects of dirt, dust, moisture and fingerprints. For greater protection when shooting outdoors, leak-proof seals throughout the lens barrel help protect your equipment.
FLEX ZOOM LOCK mechanism enables zoom lock at any position
FLEX ZOOM LOCK mechanism quickly locks or unlocks the zoom at any position simply by sliding the zoom ring. Photographers can shoot from any angle without the zoom extending unintentionally. Additionally, the conventional Zoom Lock switch prevents unwanted barrel extension during transportation.
Erweitern Sie Ihre Möglichkeiten mit der TAP-in-Konsole
Mit der optional erhältlichen TAP-in-Konsole lässt sich die Objektiv-Firmware anpassen, sowie Feineinstellungen für den Autofokus und VC aktualisieren.
Testrapporter og priser
Fototest 06/2016
EISA Award – DSLR-ZOOMOBJEKTIV 2017-2018
TIPA 2017: BEST DSLR TELEPHOTO ZOOM LENS
Nyheter om dette produktet