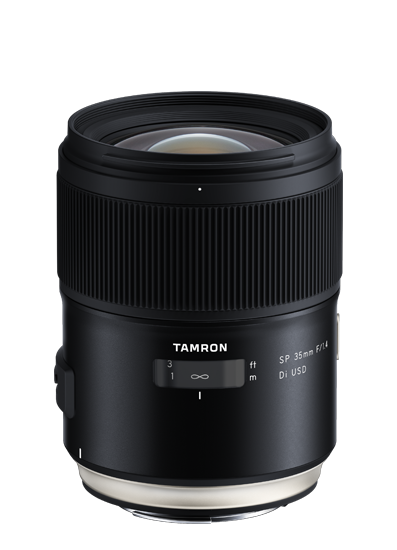 Modelis F045E
|  Di: Viso formato ir APS-C (Di)
Menas, Žmonės, Kelionės, Kraštovaizdis
Born of a vision, perfected by hand
Ar šis objektyvas tinka mano fotoaparatui?
Concentration at the perfect moment
Giving passionate photographers the best possible image quality - that is the motivation behind every TAMRON lens. The TAMRON SP 35mm F/1.4 Di USD (model F045) is the best example of this relentless search for perfection. Its peerless imaging performance makes this prime lens a worthy milestone on the 40-year anniversary of the SP Series (Super Performance). The engineers' focus during the development of this lens was on achieving the ultimate in image quality. They had accepted the challenge of creating the best TAMRON lens of all time. Using all the optical technologies that are the basis of TAMRON's leading role in lens manufacturing, they finally achieved their goal: the SP 35 mm F/1.4 is the most impressive lens in the history of TAMRON. With the aperture fully open, it shines with its uncompromising resolution performance paired with the attractive bokeh and simple usability that are the hallmark of TAMRON lenses. Be inspired by this master-class in imaging performance. With the SP 35 mm F/1.4 Di USD, you will rediscover the world.
Minimalus objekto atstumas
Didžiausias didinimo santykis
+ Rodyti daugiau
Maximum optical performance for the ultimate image quality
The SP 35mm F/1.4 produces excellent pictures. The smallest points and shapes are reproduced with absolute precision. Meticulous finishing touches have allowed Tamron to eliminate all image aberrations using an optical structure consisting of 14 lens elements in 10 groups. The lens has several special glass elements inside, including four LD (Low Dispersion) lenses and three GM (Glass Molded Aspherical) elements. The lenses are coated with the new BBAR G2 coating (Broad-Band Anti-Reflection Generation 2) for the first time; this minimises scattered light and reflections better than ever before. Even the smallest details are reproduced in stunning clarity.
Lightning-quick, ultra-precise autofocus
The autofocus makes use of Tamron's proven USD ultrasound motor (Ultra Silent Drive). The new Dynamic Rolling Cam mechanism represents a huge leap forward in automatic focusing. The new SP 35 mm F/1.4's autofocus is unmatched in speed and precision. The innovative focusing system makes for consistently high AF performance and improves accuracy even under the most challenging conditions for photography, especially at extremely low or high temperatures.
TAMRON TAP-in Console
The lens is compatible with Tamron's TAP-in Console (TAP-01, sold separately), which can be used to update the firmware and adjust the autofocus and VC image stabilisation to the user's preferences.
Naujienos apie šį produktą